ICOH 2018: new technologies (2/2)
08-05-18
A delegation of Mensura team members attended ICOH 2018, the 32nd International Congress on Occupational Health, which was held between 29 April and 4 May in Dublin. You can read about the first part of the event here. In this second blog post, they share key learnings from the last few days of ICOH 2018.
The eight informational posters and three presentations brought by the Mensura team were received very positively. General Director Gretel Schrijvers is extremely proud: "Many participants praised the quality, the scientific merit and the practical relevance of our sessions and posters. A sincere 'thank you' to everyone who contributed!"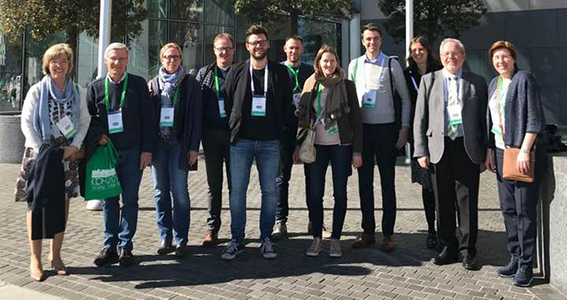 The Mensura delegation.
These are the presentations that left the biggest impression on our colleagues during the second half of the event:
'Novel delivery models for occupational health: responding to the healthcare worker shortage'
Dr. William Buchta (Vice President and Chief Medical Officer at Logistics Health Incorporated, U.S.) believes it is time for a new way of thinking: instead of focusing on risks and hazards first, our main focus should be on health opportunities, such as healthy eating habits and exercise. This is how we can make the shift from secondary to primary prevention.
He also discussed the growing impact of technology on workers now and in the future. Technological advancements have put the work-life balance on a slippery slope. Combined with the ever ageing working population, this will lead to more mental health issues and higher rates of absenteeism. It is therefore crucial to invest in the psychosocial well-being of workers and a smooth reintegration process.
At the same time, innovation brings new solutions. Thanks to webinars and tele-health, occupational health physicians are now able to complete additional or refresher training more easily and efficiently. New technologies also contribute to safety in the workplace and make it easier to monitor worker health.
'Working too much, anywhere and at all times: workers' health in our contemporary communication society'
Ulrik Van Soom, Occupational Health Physician and Knowledge Manager at Mensura, was impressed by the session presented by Dr. Lucia Rotenberg (public health researcher at Fiocruz, Brazil). She covered the topic of new technologies and their impact on workers and workplaces.
Ulrik: "Workers have access to their emails day and night, they often work from home as well, and they're always on. There is a blurring of the boundaries between professional and private life. Dr. Rotenberg warns of risks for the mental health of workers caused by advancements in information and communication technologies. She discussed a number of possible solutions to help safeguard workers' health within these environments, such as the so-called 'right to be disconnected' recently implemented in France."
'Farmer's Lung Disease in a cohort of British Agricultural Workers'
The presentation brought by Prof. David Fishwick, Chief Medical Officer and Co-Director of the Centre for Workplace Health, left a big impression on Ulrik. Fishwick studied occupational asthma among bakers, woodworkers and paint spraying professionals in England, and zoomed in on the health monitoring system that's in place.
Ulrik: "Fishwick's study demonstrated that the current health monitoring system in England could be improved. He also emphasises the undeniable importance of such a system in order to keep workers healthy. By detecting workplace hazards early, supervisors and managers can help workers affected by illness or injury more quickly and take preventive measures to avoid recurrence."
Global need for occupational health physicians
In between sessions, Gretel Schrijvers spoke with several occupational health physicians and prevention advisors at the event. "One problem that stood out and was noted by everyone is the lack of occupational health physicians worldwide", Gretel explains. "However, solutions such as alternative work methods, innovation, and the smart use of technologies were not discussed in depth during the event. The fact that colleagues worldwide are facing the same challenge is proof that Mensura should continue to explore new technologies."
Mensura will be at the next ICOH event as well (in 2021 in Melbourne), to learn more about the latest challenges and to get inspired by new opportunities!

Read also: