Groundbreaking employer: the Mensura teleworking approach inspires
24-11-21
Hybrid working has become a reality for quite a few organisations. Apart from a technological transformation, attention should also be paid to human needs and the risks that this way of working can pose. Healthy and productive teleworking is a priority at Mensura. Our approach also inspires other companies.


"Results are achieved when everyone is on board. That's our baseline," says HR business partner Katrien Meert. "The same applies to our own employees. Not everyone copes equally well with the mandatory working from home policy due to the Covid-19 crisis. So, we devote considerable attention to mental well-being and productivity when working from home."
"Colleagues who always used to work in the office can now work from home on a regular basis. We provide teleworking compensation and the necessary equipment. This has been a huge success, with 92% of the target group supporting our new policy. Every week, we have 860 fewer work commutes."
"The teams make their own agreements on availability, communication and team meetings. This entire policy is based on trust and transparency, as the HR department does not police compliance."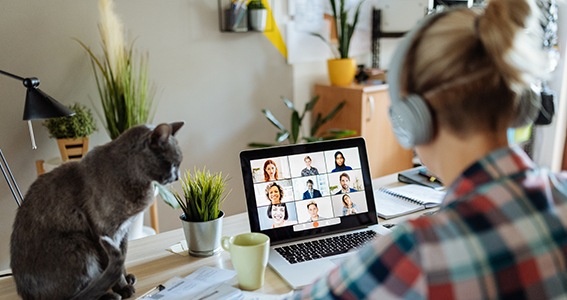 Digital intoxication
"Working from home goes hand in hand with physical and mental well-being and productivity," says Gerrit Pollentier, who is responsible for ergonomics at the Competence Center. "During the Covid-19 pandemic, we saw symptoms of digital intoxication. People got little exercise, put in long work days and spent hours on end in front of a screen. Doing something about this is the responsibility of both the employer and employee."
"For our clients, we developed a learning programme aimed at improving mental and physical well-being and productivity. A self-test is followed by a training course and then follow-up. Our goal is to change behaviour. This programme is also offered to our own employees. Clients ask us how we address this at Mensura. We in turn learn from their approach."
Evaluation
"What it ultimately boils down to is a thorough evaluation," says Katrien. "The teams do this as part of their team charter. But we also thoroughly evaluate our entire teleworking policy on a regular basis. The world is changing very quickly and we need to change along with it."
This article was previously published at www.baanbrekendewerkgever.be.
---
Consider the well-being of teleworkers
Explore Mensura's teleworking offer to structurally improve the well-being of your employees while they are teleworking or working from home. Take a look at our online training courses to see how you can make teleworking a success in just eight steps.
---