Organisations with 50 employees or more can request vaccination coverage via an occupational physician
04-10-21
Organisations with 50 employees or more can request vaccination in the workplace via the occupational physician. If the vaccination rate in your company is less than 70%, you can conduct awareness campaigns. In the event of an outbreak, the occupational physician can help you with the correct prevention measures.
Since 28 September, occupational physicians have been given access to a specific tool (the Collectivity Tool) with which they can request the vaccination coverage within organisations. This is only possible for companies employing more than 50 employees. If the vaccination rate is less than 20% or higher than 95%, no exact figure is given.
What is the purpose?
"If a company has a vaccination rate lower than 70%, awareness-raising measures can be taken to encourage more employees to be vaccinated," says occupational physician Lieve Mussen. "If the vaccination rate is known, the occupational physician can also help decide what actions to take in the event of an outbreak. For example, a different quarantine time for those who are vaccinated compared to those who are not vaccinated."
"It is important to emphasise that a high vaccination rate is not a safe passage to abandon all prevention measures. To prevent high-risk contacts and clusters, face masks are strongly recommended as an additional measure in situations where organisational measures and collective protective equipment offer insufficient protection."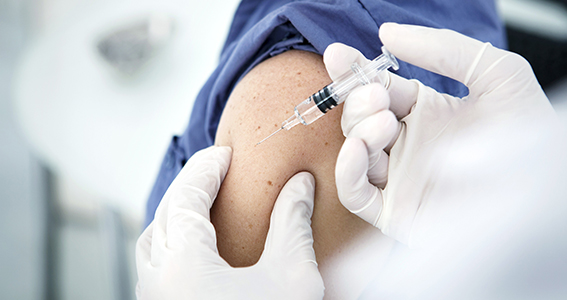 What about employees who still want to be vaccinated?
After the awareness-raising, if there are employees in your company who want to be vaccinated, the practical organisation should be carried out in coordination with the federal state in which your company is located:
---
Raising awareness about corona vaccination. Yes but how?
We will be more than happy to help you out in this regard. If you haven't done so already, you can hang up our vaccination poster.
You can also focus on internal communication. You can use the text below as a starting point:
Have you been vaccinated? If not, here is why your vaccination is important
"There are already enough people vaccinated"
While it is true we are on the right track, people are still being hospitalised if they are not vaccinated. We must prevent the chance of new variants such as the more contagious delta variant; therefore, we must give the virus as little leeway as possible. We are trying to relax as many measures as possible in order to be able to live and work normally. However, vaccines are and will remain an important barrier against the spread of the virus.
"Corona is over"
Unfortunately, this is not true. Over the long run, corona will probably evolve into an annual epidemic like the flu. Now the rules are relaxing, autumn and winter are just around the corner and ventilation will not always be possible. It is very important not to give the virus any room to manoeuvre.
"My body is strong enough"
This is true for many, especially younger people. But you never know how your body will react to the virus. More importantly: by getting vaccinated, you are not only protecting yourself. You are also protecting others, such as the elderly, at-risk patients, or people who cannot be vaccinated for medical reasons. You should also keep in mind that anybody who goes to hospital because they are not vaccinated is actually taking a bed from someone else who needs it, delaying their help.
"It's all one big conspiracy"
It is true that we live in polarised times and tensions sometimes rise. But it is important to (continue to) have faith in science and not to doubt the sincere commitment of ordinary doctors and nurses who are trying to do their best. Above all else, they want the best for everybody. Inform yourself by speaking to people who have your best interests at heart and who have the correct expertise (your general practitioner, pharmacist, occupational physician, etc.). Nobody wants to play with the health of the entire population of the planet.
We have already taken important steps in the fight against the virus. Please help us by getting vaccinated.
---