29-03-22
Q&A - Is a CO2 detector mandatory in the office?
As coronavirus measures go, a CO2 detector in restaurants or sports halls is a familiar sight. But are these sensors mandatory in offices too? And which prevention measures could you put in place to keep the indoor air as healthy as possible?
---
In short
Strictly speaking, a CO2 detector is not a mandatory requirement right now, but it is strongly recommended. This is especially true for indoor spaces where the air quality is in doubt. This includes conference rooms, waiting rooms, workspaces, and break rooms where people spend a lot of time together.
A CO2 detector helps you to take the necessary measures to keep the indoor air healthy.
---
What is the link between a CO2 detector and COVID-19?
When we breathe, speak, cough, or sneeze we spread miniscule water droplets or aerosols. Virus particles can easily spread through these aerosols. What's more, when the breathe out and talk, we also emit CO2. Just like aerosols, CO2 slowly spreads throughout a room.
Virus particles and aerosols are very difficult to measure. CO2, on the other hand, is easy to detect. A low concentration of CO2 means there is potentially less chance of spreading the coronavirus through the air. The CO2 content is expressed in 'ppm', parts per million.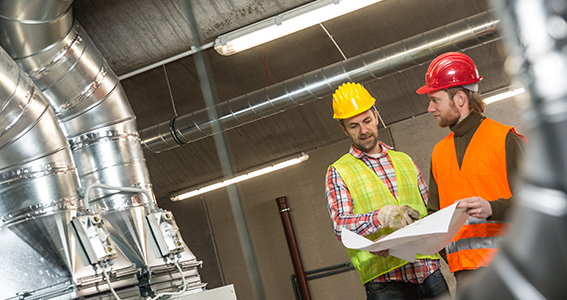 Is a CO2 detector mandatory in the office?
Even though a CO2 detector is not currently mandatory, it is strongly recommended for indoor spaces where many people are gathered for a longer period of time, such as conference rooms, waiting rooms, workspaces, and break rooms. Just as it is for all other indoor spaces where there is doubt about the air quality. This is also the guideline in the most recent generic guide (version 8, page 21).
Make sure you install your measuring device in a relevant location, so not near a door or window.
---
Places where a CO2 detector is mandatory
If you operate a sports facility, cinema, events hall, or hospitality business, you are currently legally obliged to install a CO2 detector in the publicly accessible parts of your business. What's more, the detector must be clearly visible to visitors.
---
What is the threshold value of the CO2 level in an indoor space?
If the CO2 concentration is below 900 ppm, the space is usually well-ventilated. If the value is higher, you should ideally take measures. The generic guide calls this the action value.
If you have already taken appropriate measures, or if there is increased physical activity in a indoor space, the Welfare Act requires a maximum value of 1200 ppm.
What if the threshold values are exceeded?
Open doors and windows wide for a while. Fresh air can enter from the outside, creating a fresh airflow.
Of course, you could also refresh the air continually by way of ventilation, which allows the polluted indoor air to flow outside. This can be done with the help of a mechanical ventilation system, or by having the windows permanently ajar, with a latch or stay.
Part of the risk analysis looks at which prevention measures are needed in your organisation. It maps both the quality of the air supplied and the possible sources of pollution.
Are all CO2 detectors equally reliable?
Choose a device that has been independently checked. View some examples of devices that meet the FPS Employment requirements here.
If you are considering purchasing a CO2 detector that is not on the list, bear the following requirements in mind:
Choose a CO2 detector with a non-dispersive infrared sensor (NDIR). This is the only type of sensor that measures the CO2 level effectively, it does not make an estimation. 
Each measuring device has some error of measurement - the extent to which the result deviates from the actual value. The Agency for Care and Health advises a deviation of no more than 10 percent. The error of measurement for each CO2 detector is listed on its technical data sheet.
CO2 detectors of a lower quality may develop a constant slight deviation over time. If you want to know if your device is measuring correctly, place it outside for a while. Outside, a normal CO2 value is 400 to 500 ppm.
The measurement range is important: at least 2000 ppm is recommended and preferably even as high as 5000 ppm. Especially in classrooms or other spaces where lots of people sit closely together, the CO2 levels can be very high.
---
Healthy air for a vital work environment
Are you unsure about prevention measures for air quality? Do you have any questions about a healthy and safe work environment? We would be happy to help you with tips and recommendations on how to best protect yourself and your employees.