External services can back up vaccination centres in booster vaccine campaign
02-12-21
Vaccination remains an important weapon in combating the coronavirus. The efficacy of administered vaccines wanes over time, so the campaign started to administer an additional dose, the booster vaccine. External services may eventually be called upon to help vaccinate the active population and thus speed up the work of vaccination centres.


'At Mensura, we are ready to free up some of our capacity to put our shoulder to the grindstone to administer booster vaccines to the active population,' said Dr Gretel Schrijvers, general manager of Mensura:
'In addition to the vaccination, we also see a role for us in raising awareness and providing information. Sensitisation… because the fourth wave is making some people doubt whether vaccinations really help. Or because they assume they are protected enough after two doses. Inform… because the timing for a booster vaccine depends on the type of vaccine already administered. So not everyone will be treated at the same time.'
Practical implementation
Mensura is well placed to provide this complementary support to vaccination centres. 'We are organised nationally and can call on our medical practices. We also have a lot of experience with large vaccination campaigns, including coronavirus vaccinations.'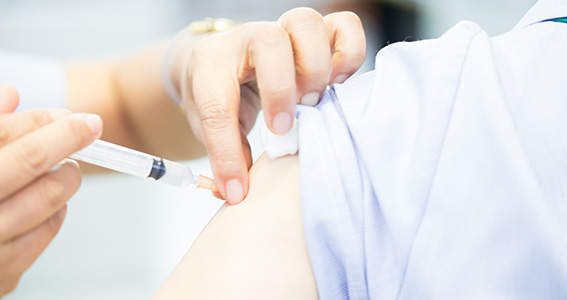 Nevertheless, Gretel Schrijvers cautions that the practical implementation will not be immediate. 'In practical terms, many things still need to be clarified. We deliberate and advise, but there is a lot to be considered. To give just one example, the current system used to invite people to receive a booster vaccine will continue as is. If, as an external service, we are going to offer the option of vaccination via employers, it must be crystal clear to employees that they can only respond to one invitation. It would be a shame to let vaccines go to waste because of unclear communication.'
---
More info to come!
Some pilot projects are currently underway to streamline the whole process. We will inform you as soon as we receive more clarity about the timing and work method.