21-03-22
Q&A – What is the most hygienic way to dry hands?
Washing your hands to protect yourself and others: we know all about it. But did you know that drying your hands thoroughly after washing them is just as important? So what is the most hygienic way to do this?
---
In short
There is no consensus. In terms of hygiene, disposable paper towels are probably the best way to dry hands. In the context of corona, electric hand dryers are not recommended. 'Shaking' your hands dry is not at all wise.
---
Why is drying your hands so important?
By washing your hands thoroughly on a regular basis, you reduce the risk of you or someone around you becoming ill. Washing your hands with soap and water releases bacteria, viruses and other pathogens from the skin.
Most of them can be rinsed off your hands. But the water left on your hands still contains countless bacteria. These are removed when you dry your hands.
There's also a second reason. Wet hands potentially transmit more pathogens than dry hands. Not only do you transmit more bacteria, you also absorb more.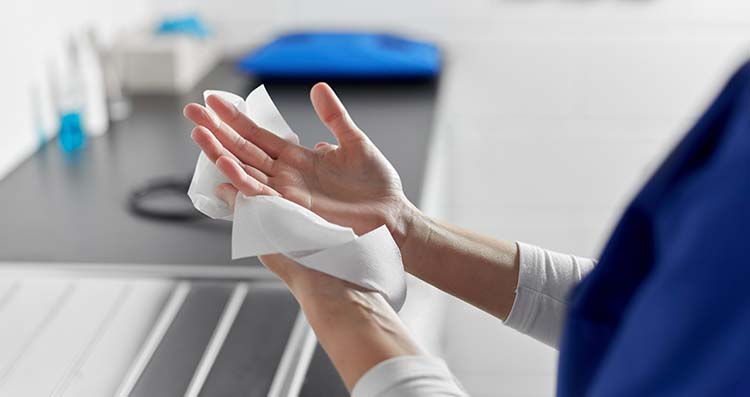 Which is the most hygienic?
Scientists have debated the most hygienic way to dry hands for a long time. Since the start of the coronavirus crisis, experts have been recommending single-use paper towels or an equivalent such as cotton. There are no significant differences between the two.
Towel dispensers with a two-chamber system for paper or cotton towels on a roll for single use are also safe options. 
Electric hand dryers are absolutely forbidden for now. They can blow small droplets contaminated with the virus up into the nose or mouth.
A reusable cloth towel is not recommended: it quickly becomes a breeding ground for bacteria.
---
Working safely during the pandemic
Do you have doubts about the hygiene rules? Questions about a healthy and safe working environment?
We will be happy to help you with tips and recommendations on how to protect yourself and your employees best.
Surf to coronatimesatwork.be >
---