Together with PLAY IT, we will take your knowledge to the next level

Why?
The serious games by PLAY IT are a perfect way to provide efficient continued learning. Thanks to the virtual experience, you will remember faster and better.
Learn 4 times faster and 30% better*
Game-based learning provides an efficient learning experience that enhances retention.
* Source: doctoral study "Digital Game-Based Learning Under The Microscope" by Anissa All - Ghent University
Flexibility
You follow the modules at your own pace, wherever and whenever you want. Available on your smartphone, tablet, laptop, desktop or even virtual reality goggles. Each course is divided into short 5-to-10-minute modules.
Clear reporting
The reporting dashboard provides your organisation with a better understanding of internal knowledge and points of improvement.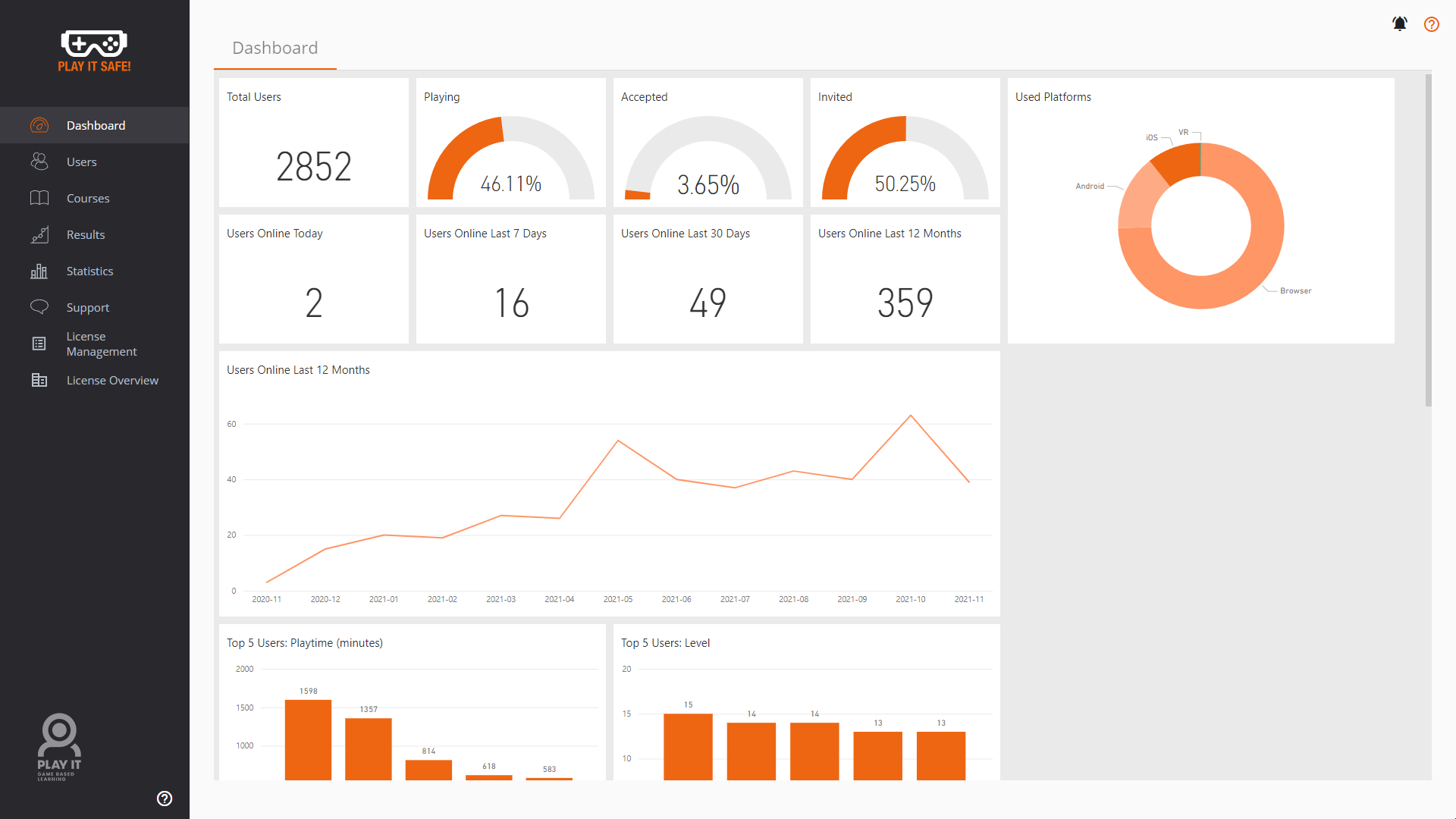 ---
What do you learn?
You will gain practical skills to take appropriate action in terms of fire safety, support and first aid, ergonomics, psychosocial well-being, hygiene and internal traffic.
Available courses per domain:
Internal and external alarm
Extinguishing equipment (fire extinguisher, fire blanket, fire hose reel) and their use
What to do in the event of: an incipient fire, erupted fire or smoke production
Evaluation procedures
Emergency planning for staff and fire officers ​
Emergency assistance and First Aid
First Aid procedures and techniques
First Aid with COVID-19
The First Aid kit
Resuscitation and defibrillator (AED)
What to do in specific situations such as choking, shock, loss of consciousness, fainting, amputation, carbon monoxide poisoning, diabetes hyperglycemia and hypo, electrocution, head and vertebral injury, heart attack, stroke, poisoning, burns, abrasions, sprains, concussion, epilepsy, hyperventilation and nose bleeds
Emergency numbers
Bandaging technique
Correctly moving the victim ​
Computer work: correct desk posture
Hoisting and lifting techniques ​
Symbols and their meaning
Handling asbestos
Working at height with a mobile scaffold
Loading and unloading of liquids ​
Dealing with aggression
Preventing and dealing with burnout ​
Correct application of hand hygiene
Safety in and around the forklift
---
This course is part of our Initiate-offer

Develop basic knowledge in a short time. The sessions are dynamic and easy to get into and available online at any time. You learn where and when you want. No previous knowledge required. 
---
Result?
After a game-based learning module by PLAY IT you will gain basic knowledge in the domains of fire safety, emergency assistance and First Aid, ergonomics, safety, psychosocial well-being, hygiene and internal traffic.
Practical info
We will organise your Play it Safe training course in 5 steps:
We will discuss the plan of approach together.
You will receive a communication kit to guide potential participants through the offering. This will get everyone on board.
You activate the modules for your employees.
Colleagues learn through short, interactive exercises.
You can monitor the results in a transparent dashboard.
---
For whom?
In need of specific knowledge? Or looking for a way to develop awareness among your colleagues in a group? Play it Safe offers both options. And we can make a fully customised offering tailored to your organisation.
The simulations take place in different work settings such as an office, construction site, hospital, industrial site, kitchen and store.
This makes them suitable for all kinds of sectors: healthcare, food production, construction, banks, automotive, industry, services and education.
---
What does the law say?
The welfare act requires all organisations to develop awareness among their employees. Preventive measures and sufficient training help avoid accidents at work.
Game-based learning by PLAY IT helps your organisation meet legal requirements in the domains of fire safety, emergency assistance and First Aid, ergonomics, safety, psychosocial well-being, hygiene and internal traffic.
---
Price
The price depends on how you follow the training.
The options:
1 year access to all domains on the Play it Safe platform
1 year access to a specific well-being domain
Fully customised
Subsidies and financing options
Workability checks
Sector fund