Training
To help contain the corona outbreak, we are cancelling all open courses up to Sunday 14 June. Courses scheduled for later on will continue as planned, for the time being, as will all closed courses. We will inform you of any further changes. 
Training courses in the spotlight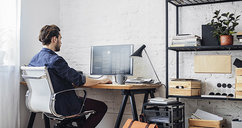 During this online training course, you'll find out how to make homeworking a success in 8 steps.
Open training courses
Register for a training course on well-being or workplace prevention and protection near you.
Custom training courses
We also provide in-company training to suit your specific requirements.