Online learning program 'Healthy and productive homeworking' - Advanced
Now that your employees are working more regularly from home, a safe and healthy workplace is essential to their well-being and productivity. This online learning programme lets you offer them optimal support. Three exploratory modules are included in the Advanced formula.
Why this training?
Teleworking has rocketed since 2020. Employees and employers have discovered the benefits of working from home, but there are also risks involved. It means you have less control over the work environment as an employer. And that can lead to health and productivity issues. 
Who is this training intended for?
For all organisation wishing to promote safe and healthy teleworking, and specifically for companies with lots of VDU-based work.
How does it work?
This online training programme consists of 4 parts: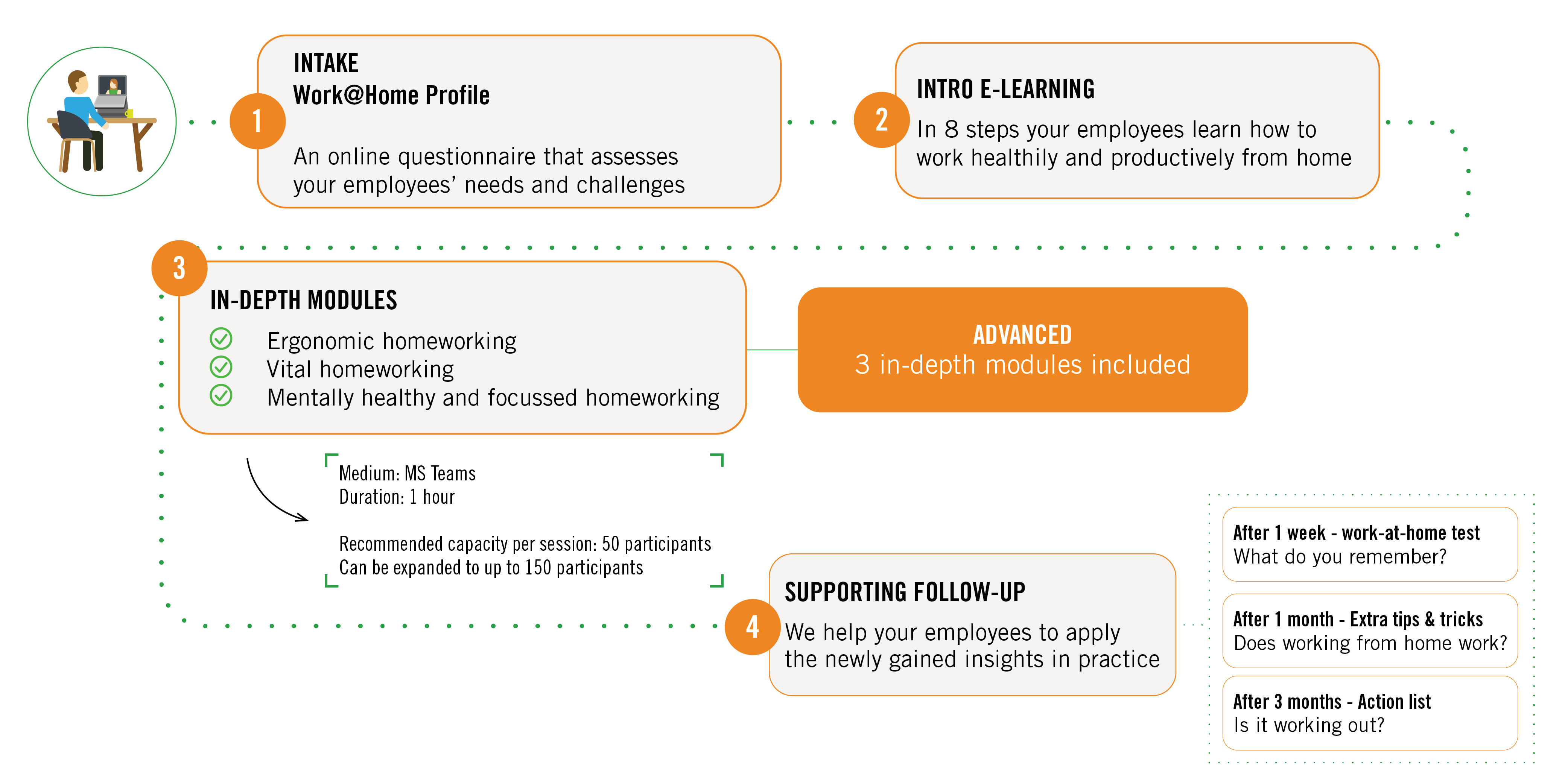 Intake with the Work@Home Profile: a questionnaire is used to assess the needs and issues of your employees when working from home.
Introduction session: a 30-minute e-learning module guides your employees through eight steps to healthy and productive teleworking.
In-depth modules: your employees follow your chosen module in a 1-hour Microsoft Teams session.

Ergonomic teleworking: What is the best work posture and environment to prevent ergonomic issues?
Active teleworking: How do you incorporate enough exercise and a balanced diet into your working day?
Mentally healthy and focussed homeworking: How do you stay mentally healthy and focused on your tasks when working from home?

Do you wish to offer your employees just 1 exploratory module? No problem. Take a look at our Essentials formula.
 

Supporting follow-up programme: after the sessions we reconnect another 3 times.

After 1 week: your employees will take a teleworking test.
After one month: your employees receive a list filled with practical tips.
After three months: your employees receive a concrete action list to support them in their efforts.
Practical information
The ideal number of participants per session is 50. It is possible to increase this to 150 participants.
We schedule the sessions in consultation with you.
This online training programme qualifies for payment with workability cheques.