M-pact: boosting vitality and healthy teleworking from a distance? Mission accomplished at Würth
Boosting healthy teleworking and vitality: no easy task in times of corona. That's why Würth Belux turned to Mensura for some digital workshops. How did managers and employees find the sessions? Read M-pact to find out.
In our episodes of M-pact, we check out the positive impact of a project with everyone involved: from managers and project leaders to those on the shop floor. We get together to discuss the collaboration and the end result.
The project
How do you boost the vitality of all employees from a distance, even when their profiles are very diverse? This was question presented to Mensura by Würth Belgium-Luxembourg in the autumn of 2020. This producer of assembly materials also had another requirement: the solution needed to suit the wider framework of health and prevention. Digital, interactive workshops, designed to meet the needs of those working at Würth, were a big hit.
In the starring role
Donald Ackaert, head of the sales department at Würth Belux.
Margot Janssens, management assistant and communication executive at Würth Belux.
Anneleen Vanlook, prevention adviser for psychosocial aspects Mensura.
Elita Schildermans, prevention adviser for psychosocial aspects Mensura.

Donald (Würth): "In the autumn of 2020 I noticed that several employees were facing the same challenges caused by the second corona lockdown: stress due to a lack of perspective and less connectedness with the team. The need for advice from an external expert was clear, and ideally as soon as possible. After all, in our welfare policy at Würth, we try to focus on prevention in order to prevent any serious health complaints."
"So we asked the advice of our permanent prevention department Mensura. As a first step, they recommended online workshops available to employees on a voluntarily basis. We were certainly keen on that idea, provided the content was relevant for all 360 employees. Quite a challenge, as the range of jobs is very diverse. Spoiler alert: our expectations were easily exceeded."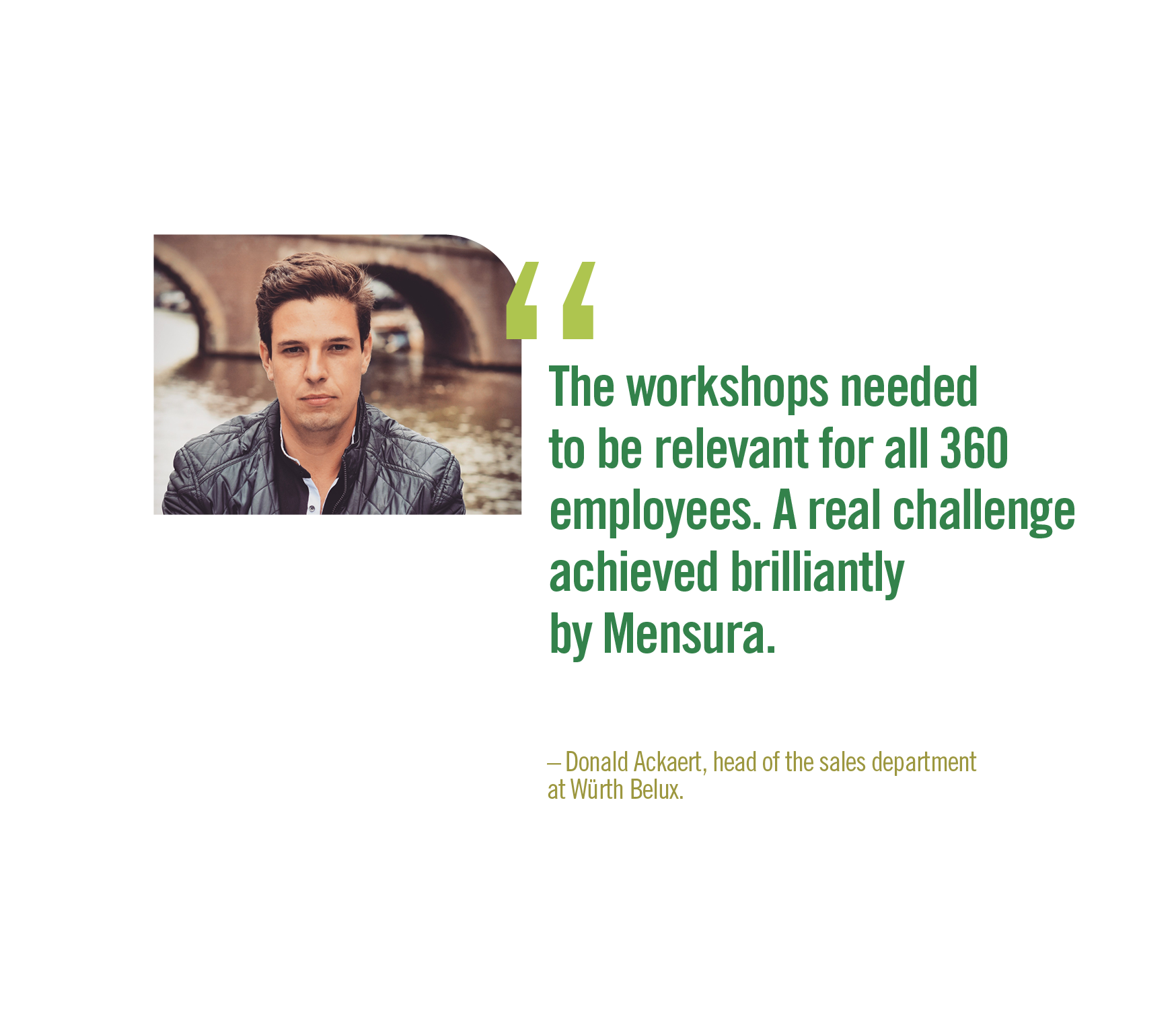 Anneleen (Mensura): "As a permanent prevention adviser for Würth, our colleague at Mensura, Heidi Mermans, was already closely involved in the development of their welfare policy. She considered these workshops to be a valuable addition and called on a team of three prevention advisers for psychosocial aspects, including myself and Marie – a French-speaking colleague.
During an intake discussion with the internal prevention adviser at Würth I got a sense of what was going on in the workplace. This highlighted two elements: healthy teleworking and encouraging connectedness. We combined these two aspects with the spirit of the times. After all, in contrast to the first lockdown, it was not about corona fear but more a matter of corona fatigue.
"With this combination we came up with four workshops – two in Dutch and two in French – with recommendations, examples and techniques that every employee could relate to. Ranging from how to prioritise your list of tasks, to ways to achieve peace of mind. In an effort to emphasise the right elements, we used anonymous polls at the start of each session to assess the biggest issues among the participants."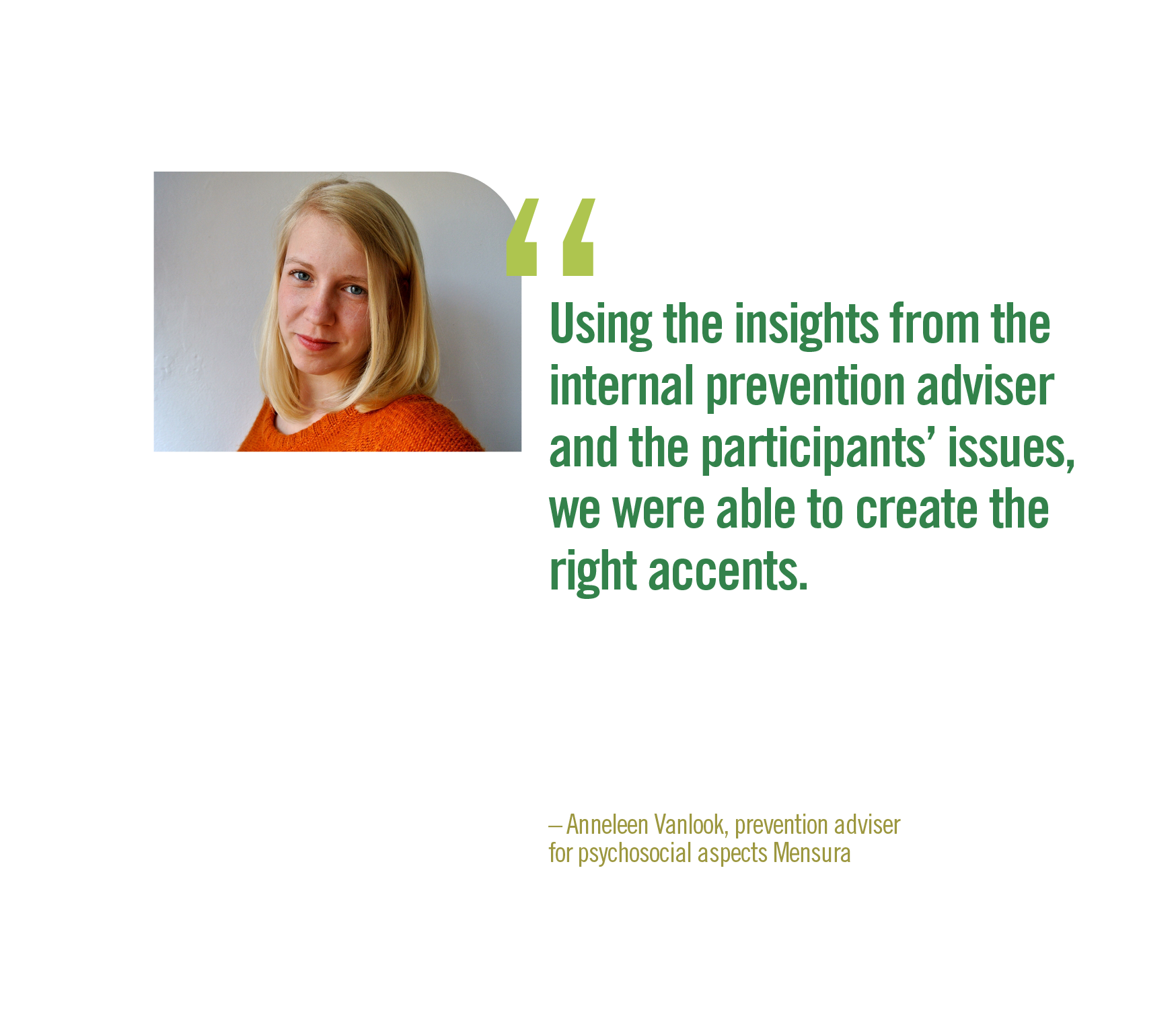 Margot (Würth): "My colleagues and I found the sessions very refreshing. The examples were recognisable, the exercises were accessible and the tips were useful. I still make regular use of the techniques we learned, such as stretching exercises for ergonomic working."
"The content was good, and so was the format. Thanks to Q&A sessions, real-time polls and a very popular chat box, the interaction was incredibly high. This created a sense of solidarity: everyone is in the same boat, despite their different roles. For me, the workshops were also a clear sign of the managers' concern for the health and well-being of staff. That naturally gives a boost."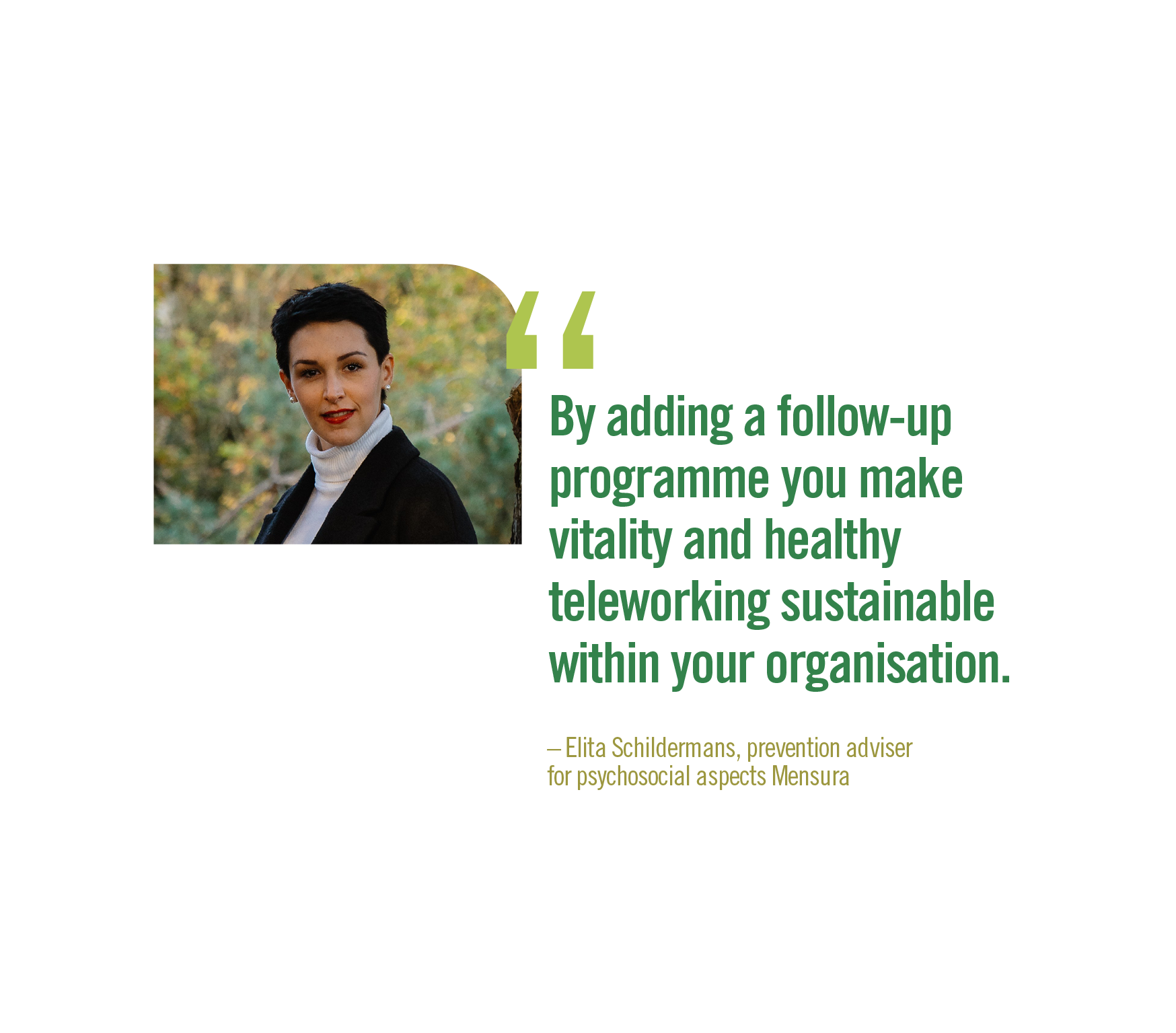 Elita (Mensura): "There is sometimes the risk that the content of (online) workshops does not relate to daily practice. We recommend a follow-up programme in order to prevent this. This involves asking participants about teleworking and vitality, and doing so at three different moments: after one week, after one month and after three months. We linked each survey to some extra customised tips, a quiz, etc. In doing so, the employer can encourage a change in behaviour and implement vitality and healthy teleworking in its organisation. Thus maximising the impact."