3 reasons for companies to take part in Tournée Minérale
01-02-23
The "Tournée Minérale" campaign encourages Belgians to quit drinking alcohol in February. The joint initiative run by the DrugLijn and the VAD (Flemish Expertise Centre for Alcohol and other Drugs) against Cancer is designed to help employers promote a healthy lifestyle and raise awareness on or finetune the alcohol and drugs policy in the workplace.
Alcohol consumption is relatively high during the months of December and January. Maybe you organised an end-of-year or New Year's office party at your organisation as well? In February, you and your employees can take a new, healthier path. How? By saying 'no' to alcohol for 28 days. Here are 3 reasons why your company will also benefit from this action.
1. Your employees will be (and remain) more productive
Employees who regularly consume alcohol have a more erratic, superficial sleep pattern, which has a negative impact on their productivity. They also tend to exhibit inappropriate behaviour and have poorer relationships with colleagues.
Taking a month off alcohol can help your workers get better sleep, feel more energetic and get their weight under control. Most people who forego alcohol for four weeks keep the habit going even months later.
Did you know that…
... alcohol contains a huge amount of calories? The average Belgian consumes a lot of alcoholic beverages each year, bringing the total alcohol consumption per capita to 12.6 litres of pure alcohol. Converted into glasses, this makes 19 glasses of beer or 15 glasses of wine a week, or 107 and 71 lumps of sugar respectively.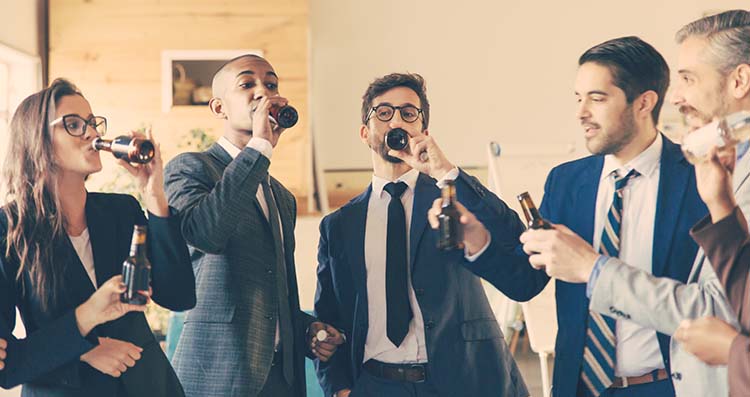 2. You help fund vital cancer research
Even though alcohol consumption is a socially accepted phenomenon, it is also linked to about sixty different illnesses, including cancer. Participants in the initiative can therefore raise money for cancer research, by donating to the Belgian Foundation against Cancer the money saved by giving up alcohol for a month.
Did you know that …
... the average Belgian family spends 547 euros annually on alcoholic beverages? Someone who does not drink for a full month easily saves 45 euros.
3. You reinforce your organisation's alcohol and drug policy
When the end-of-year celebrations and New Year's parties are over, it is a good thing to remind everyone of your alcohol and drug policy. "Tournée Minérale is the perfect incentive to drive this policy", reiterates Vitality Manager at Mensura, Koen Van Hulst. "Just like us, the campaign raises awareness on the importance of a healthy workforce. In practice, Mensura, in collaboration with an occupational physician, helps employers draw up an effective alcohol and drug policy for their organisation."