Air conditioning at the workplace: tips for optimal maintenance
12-07-22
When the summer temperatures reach their highs, an air conditioning system keeps everything cool, including the workplace. It helps employees stay sharp and stimulates their productivity. But to ensure a pleasant indoor climate, your cooling system needs to be maintained regularly. This overview will help you keep your cool at all times.
Proper maintenance of your air conditioning system or combined air conditioning/ventilation system must meet environmental legislation guidelines.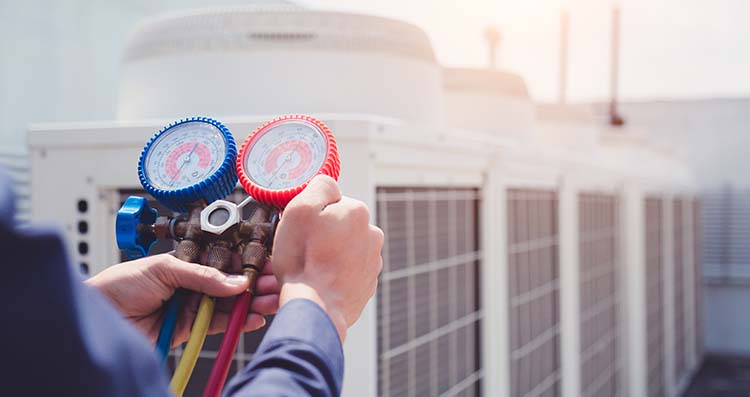 Maintenance check
A qualified refrigeration engineer must inspect the cooling system regularly. He should record everything he does in a logbook held on site. In the worse case scenario, sanctions may follow if your company does not comply with these guidelines.
(H)CFCs
CFCs (chlorofluorocarbons) and HCFCs (hydrochlorofluorocarbons) are banned ozone-depleting substances. Many old appliances still use these substances. Cooling systems that still make use of (H)CFCs must therefore be correctly removed by a refrigeration engineer. This must be done immediately in the Brussels-Capital Region; there is a phasing out process being carried out in Wallonia and Flanders.
Air conditioning energy inspection
Depending on the cooling capacity, the air conditioning system you use for employee comfort requires an air conditioning energy inspection. Among other things, this inspection checks the efficiency of the installation.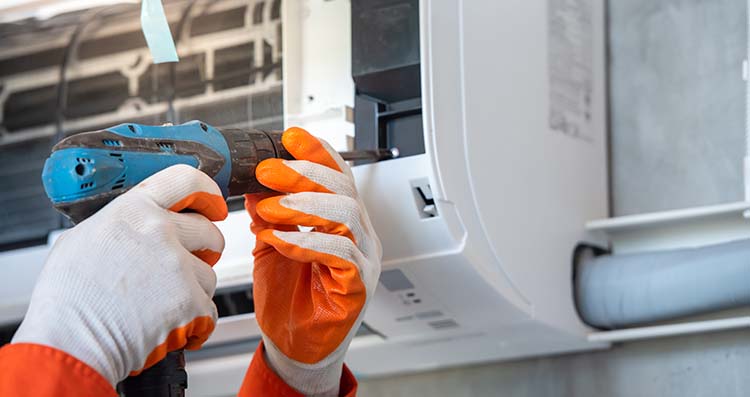 | | | | |
| --- | --- | --- | --- |
| Power | Frequency in Flanders | Frequency in Wallonia | Frequency in Brussels |
| > 12 kW | every 5 years | every 5 years | every year |
| ≥ 50 kW | every 5 years | every 5 years | every year |
| ≥ 250 kW | every 5 years | every 5 years | every year |
In addition, an inspection must be carried out within the first year of installation.
Leak tests
Periodic leak tests of your cooling system are also mandatory. If there is a risk of a leak, very specific leak detection equipment must be used. These piping system checks must meet certain conditions:
Both a detailed description of the checks and their results must be recorded. Only a certified refrigeration engineer can perform the periodic leak tests. He also records that in the logbook.
Depending on the type of refrigerant and the region in which your organisation is located, the leak test should be carried out 1, 2 or 4 times a year. Do you have automatic leak detection? Then you can halve that test frequency.
Have you noticed a leak between checks? Then it is important that you have the necessary repairs carried out immediately, as well as a new leak test. The inspection results will be recorded in a register and remain available for the relevant authorities. Any leak must be repaired, and a follow-up check carried out by a qualified refrigeration engineer. How this is carried out can vary from region to region.
Are air conditioners safe in times of corona?
There is currently no conclusive evidence that the virus can be spread by air conditioning or climate control systems. But it is better to be safe than sorry. REHVA, the Federation of European Heating, Ventilation and Air Conditioning associations, has a list of practical measures drawn up to minimise the risk of contamination in the office.

The most important advice is: ventilation. It is important that the installations are properly maintained, with special attention being paid to the filters. If possible, systems must be configured to ensure no recovered air is used. Systems that extract 100% of the air to outside are ideal. If the air is not extracted outside, ventilate the rooms regularly by opening the windows.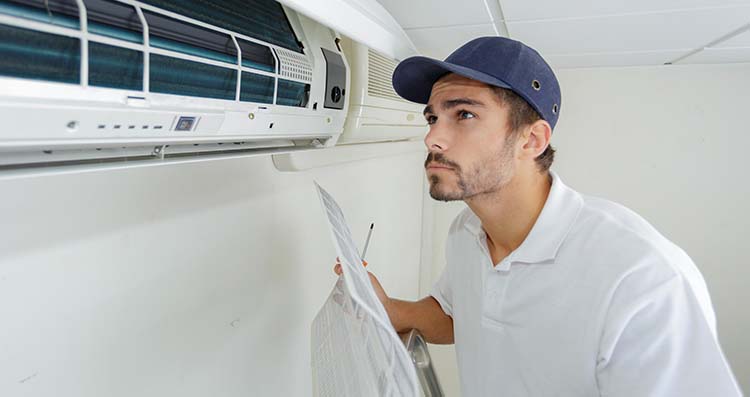 Mandatory certification
Pressure test certification
If you have just installed a new air conditioner at work, you must also be able to present a certificate from the manufacturer or environmental expert. This shows that the system has successfully undergone a number of pressure tests, meets an official standard, and has been built according to a recognised code of good practice.
 
Pre-assembled parts certification
If the installation contains pre-assembled parts, an additional certificate from the competent experts is required. This must show that those parts also meet the above conditions or a European recognised standard.
 
Register
The data, certification, reports, invoices of purchased coolants, etc. of a cooling system must be kept with the appliance. In the Flemish Region this is in the form of a logbook, in the Walloon Region in a inspection book ("livret de bord") and in the Brussels-Capital Region in a register. These are filled in by the authorised refrigeration engineer. The operator is responsible for its completeness.
Only small installations and cooling systems that comply with specific legislation are not required to have such certificates and registers. To find out if your air conditioning system is exempt, you must consult your local government environment department or a licensed refrigeration engineer.
During hot summers, employees rely on your cooling system. These maintenance tips provide you with the necessary knowledge to ensure optimal working conditions.
If you need more information about this, please contact our employees of the environment department at milieu@mensura.be or 011/26.99.92