Between grief and work: "Grief can always find its way into the workplace"
28-10-21
The month of November is traditionally dominated by saying goodbye and loss. It is a good time to reflect on what we often find difficult to talk about: grief. Prevention advisor Daisy Buttiens supports organisations, managers and employees in this difficult matter. "It is important to discuss grief, also at work."
Daisy Buttiens spent many years studying the theme of grief as a member of the Werkgroep Verder, an organisation that takes care of bereaved relatives after the suicide of a family member or loved one. She helped organise contact between bereaved relatives, she provided training, and she collaborated with many other organisations. Today, she takes these insights into the business world as a prevention advisor for psychosocial aspects. As such, she helps discuss grief in the workplace.
It may be obvious, but grieving doesn't stop when you get to work does it?
Daisy: "That's right. In the many conversations I've had on the topic, everyone has agreed: experiencing loss has a long-lasting impact on all aspects of your life, including work. It is therefore important to discuss grief within that specific context."
Why is talking about grief still a taboo?
"As a prevention advisor, I have first-hand experience of what bereaved relatives used to tell me. Coming from a world where grief was very much discussed, the contrast with the business world is huge. Bereaved relatives often feel isolated in their grief. Supervisors and colleagues have told me they feel uncomfortable in situations involving grief and do not know what to say. In turn, bereaved relatives are afraid they will be judged about their grieving method and so keep quiet."
Break the silence or not?
Can you explain what the grieving process does to a person?
"A former colleague experienced a devastating earthquake in Nepal. What remained after the earthquake was a terrible sight: a city in ruins and people crying everywhere, screaming for help. But behind her she saw the mountains, nature untouched as if nothing had happened. So the rest of the world just moved on. In the weeks after the earthquake, she regularly went into the mountains to escape the chaos and to relax.
Something similar happens when people are confronted with a serious loss, such as a death, divorce or dismissal. It feels like an earthquake wreaking havoc in your life. You end up on a constantly moving pendulum: from the city – confronting what is no longer there – to the mountains – recovery, distraction and focussing on what is still there.
How the pendulum motion starts and how fast it moves back and forth is different for everyone. The grieving process becomes a lot easier when people are given the space to follow their own path but still know they can talk to someone about their loss."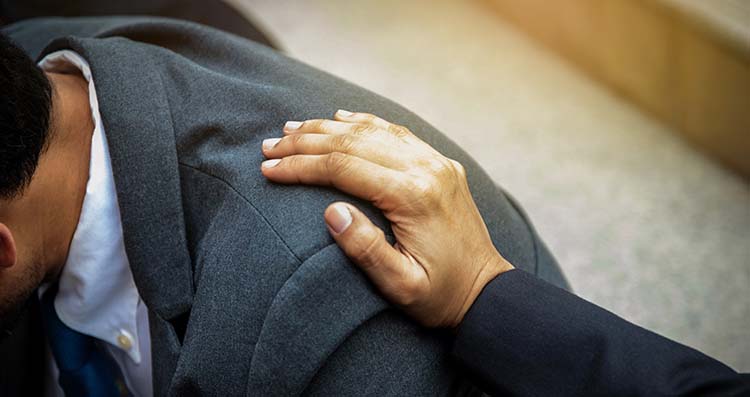 Wouldn't it be better to let employees complete the grieving process in private before returning to work?
"Unfortunately, that's not how it works. Grieving is a permanent process, with good and bad moments. Waiting for it to be "over" would potentially see many people staying home for life after a loss. And this, of course, is impossible. In any case, grief must accompany you to the workplace."
How do you actually help organisations discuss grief?
"For my final project in my prevention advisor for psychosocial aspects training, I developed a working tool to help bereaved relatives, organisations, managers and colleagues talk about grief at work. We discussed the stumbling blocks and best practices during a working group with HR managers, management and other relevant stakeholders. "I developed information sheets for the four most important target groups: organisations, managers, colleagues, and the bereaved relatives themselves. These sheets contain background information about the phases of the pendulum movement and practical tips about to deal with them, with a focus on communication methods: how, when and by whom.
In addition, I drew up an extensive scenario that can serve as a basis for developing a bereavement policy within an organisation. Supervisors can also use it when one of their employees is confronted with a severe loss."
Do you want to discuss grief in the workplace?
Do you want policy support? Contact our psychosocial team via mail.