Innovation in fire prevention: working with augmented reality
14-01-20
How can technology help make firefighting even more professional and efficient? That was the question posed by the first-ever Firestarter Hackathon hosted by Vias, Ernst&Young and the Flemish Fire Service Network in the second half of 2019. The aim of the event was to develop innovative solutions for fire prevention.
Mensura joined forces with the business & IT consultancy company AE to take up the challenge. Below, Koen Mercken, prevention expert in occupational health and safety at Mensura, and Jeroen Haegebaert, technical enterprise architect at AE, share their experience of this unique collaboration.
Future-oriented thinking
Where did the idea come from to take part in this Hackathon?
Jeroen: "One of my colleagues at AE, who is a fireman himself, put the idea on our radar. Mensura, a loyal client of ours for years, immediately realised the potential. We put together a team straightaway with our technical experts and several Mensura prevention advisers, combining our technical knowledge with relevant experience in fire prevention."
Koen: "At Mensura, we're constantly on the lookout for partnerships and digital applications to safeguard the health and safety of employees even further. As such, we immediately realised the potential of the Hackathon.
We connected the experiment with one of our core tasks: using technology, how can we help prevention advisors identify fire risks more quickly and more accurately? Today, risk analyses are still a largely manual process, making them extremely time-consuming for both clients and prevention advisors. There just had to be a more efficient way."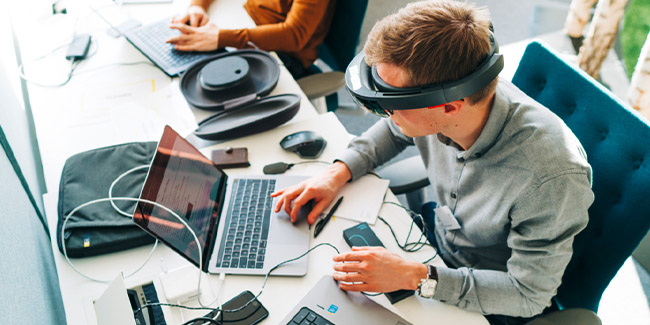 Looking for creative solutions
What exactly did the first Firestarter Hackathon involve?
Koen: "A hackathon gives developers and strategists the opportunity to combine their skills and develop an innovative solution to a specific problem within a set time limit. During the Firestarter Hackathon, we were given 12 hours to practically develop a fire prevention solution. The assignment was twofold: work out a business case and produce a prototype." 
What does the solution you developed involve?
Jeroen: "We used Microsoft's HoloLens to simplify company tours. Today, prevention advisors use a tablet to photograph any fire risks, firefighting equipment and evacuation equipment, and they make notes on a paper plan. The application we developed uses smart glasses to scan the building and identify certain pre-set parameters, such as fire extinguishers and fire doors."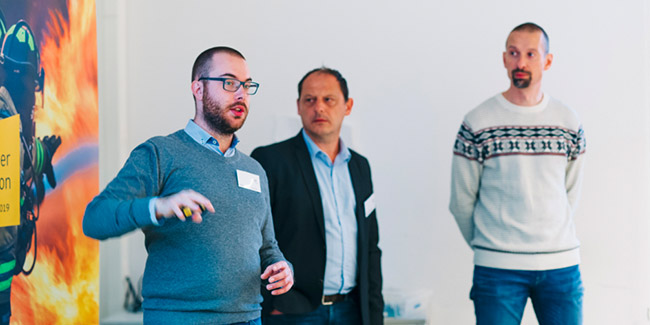 Koen: "And that's just the start: what if the device could proactively detect fire risks, such as a fuel tank, during the tour? By capturing and categorising this information online, prevention advisors can save themselves a huge amount of paperwork. On top of that, the fire service is also guaranteed to get more accurate information. All in all, a win-win situation."
What's next?
What are the main findings of the experiment?
Koen: "By using augmented reality, prevention advisers can work more quickly and produce better-quality results. This doesn't just make their jobs more efficient; it makes them more fun too. On top of that, the application has the potential to improve fire prevention."
Jeroen: "That raises the question: how can we make this financially viable? And which role do the different partners play? The added value of this project lies in thinking about these aspects. What we intend to do next is get together with all interested parties to see how we can take this further."
Koen: "This Hackathon was a great learning experience with genuine potential for the future. The experiment ties in perfectly with Mensura's future-oriented vision: we are convinced that innovative, digital applications can raise risk management in the workplace to a different level.