M-pact: Alcon involves staff in development of new production line
At Alcon in Puurs, millions of Custom Paks (surgical kits containing eye lenses and medical devices for eye surgeons) roll off the conveyor belt every year. Given the amount of manual work involved, physical complaints are a real risk for employees. For this reason, ergonomic specialists Dorien and Ruth are no strangers on site at this global leader in eye care. Mensura experts help monitor the ergonomic health of Alcon employees, even during the development of a new production line.
In the M-pact series, we work with clients to assess the positive impact of projects on all stakeholders involved, from managers to project leads and other employees. Together, we discuss the cooperation and desired results.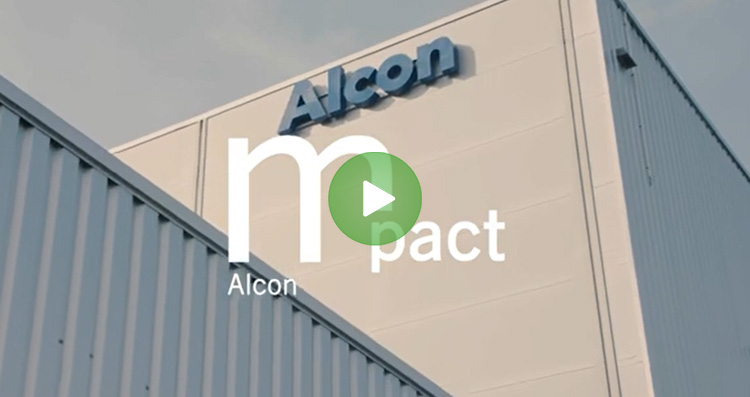 The project
The aim of the new Alcon installation was to increase production line efficiency. Greater efficiency doesn't just mean working faster, but also more ergonomically. If staff are healthy, they are more motivated and less likely to leave. Internal prevention advisor Piet Van den Hende and Mensura ergonomics expert Dorien Simons therefore involved production staff by asking them to test mock-ups and a VR simulation of the installation. This meant they could offer their opinions before the installation went live.
The main stakeholders
Piet Van den Hende, internal prevention advisor at Alcon.
Dorien Simons, prevention specialist in ergonomics at Mensura.
Nathalie Michiels, project lead at Alcon.
Cindy Vanlancker, production employee at Alcon.
Piet: "Our employees carry out a lot of physically demanding work. Ergonomics is therefore a key consideration at Alcon and that's why we work closely with Mensura. We meet with Dorien and her colleague Ruth from Mensura about once a month to discuss small- and large-scale ergonomics projects. The development of our new production line undeniably belongs to the latter category."
"We put Mensura in touch with our machine manufacturer as early as possible. This allowed us to work together on finding the ideal balance between technical and ergonomic efficiency. In the new set-up, robots take over the most physically demanding tasks from our employees. This benefits not only productivity, but also the health of our staff."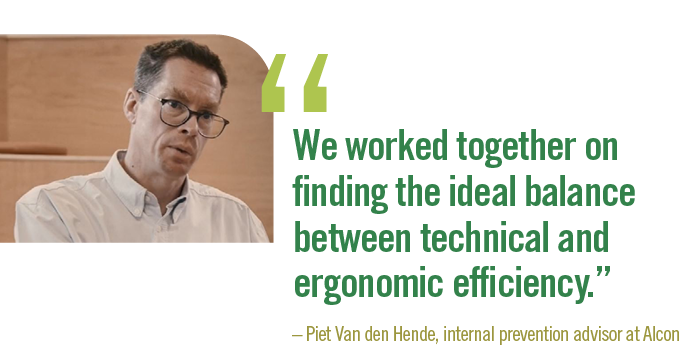 Dorien: "We used cardboard boxes and wooden pallets to make mock-ups of the new installation to identify ergonomic risks. We asked employees to test them so we could make the necessary adjustments. Piet, Nathalie and I also tested them. The ideal dimensions were naturally calculated beforehand, but actual hands-on testing always reveals additional learning and insights."
"Machine manufacturers usually focus on the technical requirements of their installations. Here at Mensura, we literally put ourselves in the shoes of the employees to test the ergonomics. It's important and gratifying that Alcon involved us right from the beginning. Many companies only think about ergonomics after physical complaints arise or when people take sick leave. That's far too late. Through prevention, you nip these problems in the bud as early as possible."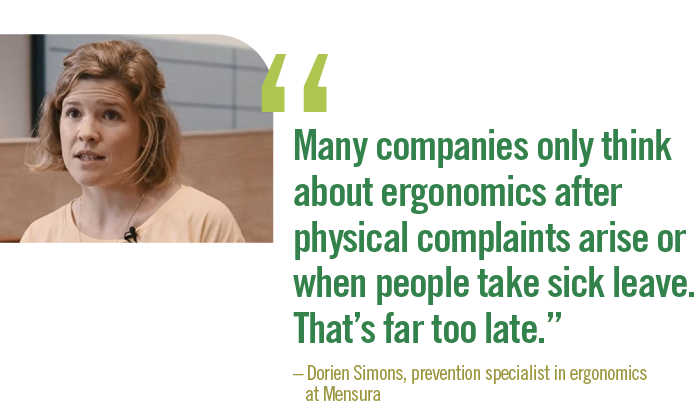 Nathalie: "I'm a trainer and prevention consultant at Alcon, but I also spend time on the shop floor, which enables me to make an accurate assessment of the ergonomics, this enabled me to steer this project to effective results. Like Piet and a great number of employees, I acted as a guinea pig in Dorien's tests. Our production line has to work for everyone, including employees of a smaller stature like me. (She laughs)."
"Dorien is the ergonomics expert, but we know what is technically possible and necessary. Narrow corridors, emergency situations, maintenance work - these are all factors that had to be taken into account in this project. Take the position of the belt; this was the ideal ergonomic height, but it wasn't technically feasible. After testing, we found that the solution was to use tilting trays to reduce the reaching distance. The tests undeniably provided added value in the development of our production line."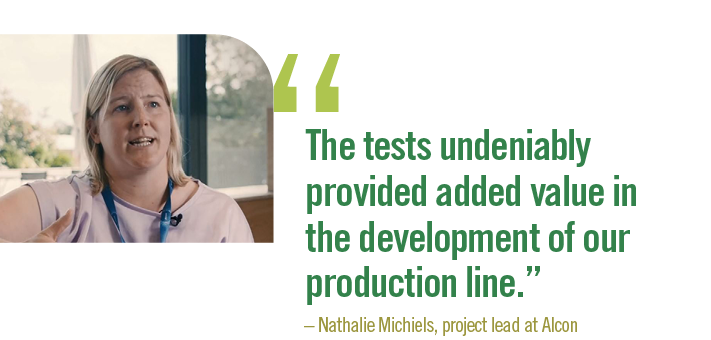 Cindy: "VR glasses gave me a preview of the new installation and I was able to use it in a virtual environment. That was such an incredible experience. I really felt as though I was on the production line. My immediate impression was that the new installation was ergonomically an improvement. My posture, for instance, was much more upright than on the old belt."
"It's very gratifying for employees to be involved in a project like this and it doesn't stop there. We also get shown stretching exercises to prevent ergonomic issues. You feel truly valued when you know that your employer is doing their best to care for your health."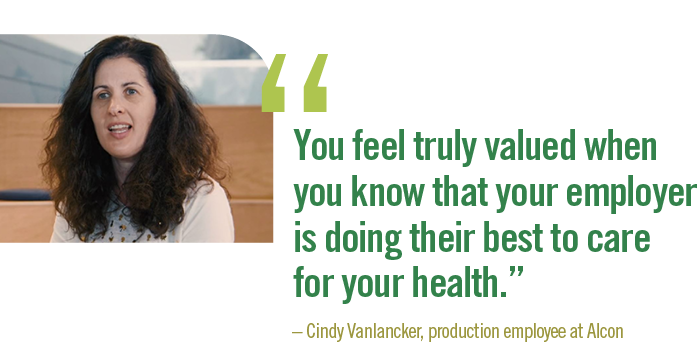 Could you benefit from advice about your small- or large-scale ergonomics projects?
We're always happy to help. Get in touch on +32 2 549 71 00 or at ergonomie@mensura.be.