M-pact: Basic-Fit sets a good example within its own company
Basic Fit's mission? To get as many people as fit and healthy as possible. Things seem to be working given the exponential growth of the fitness chain in recent years. But what about the health of its own employees? We have been working intensively with Basic-Fit for several years now to optimise safety and well-being. What inroads have we made? One thing is certain: no pain, no gain!
In the M-pact series, we talk with clients to gauge the positive impact a project has on all involved - from managers to project leaders to other collaborators. We get together and discuss how to work together and what results we can expect.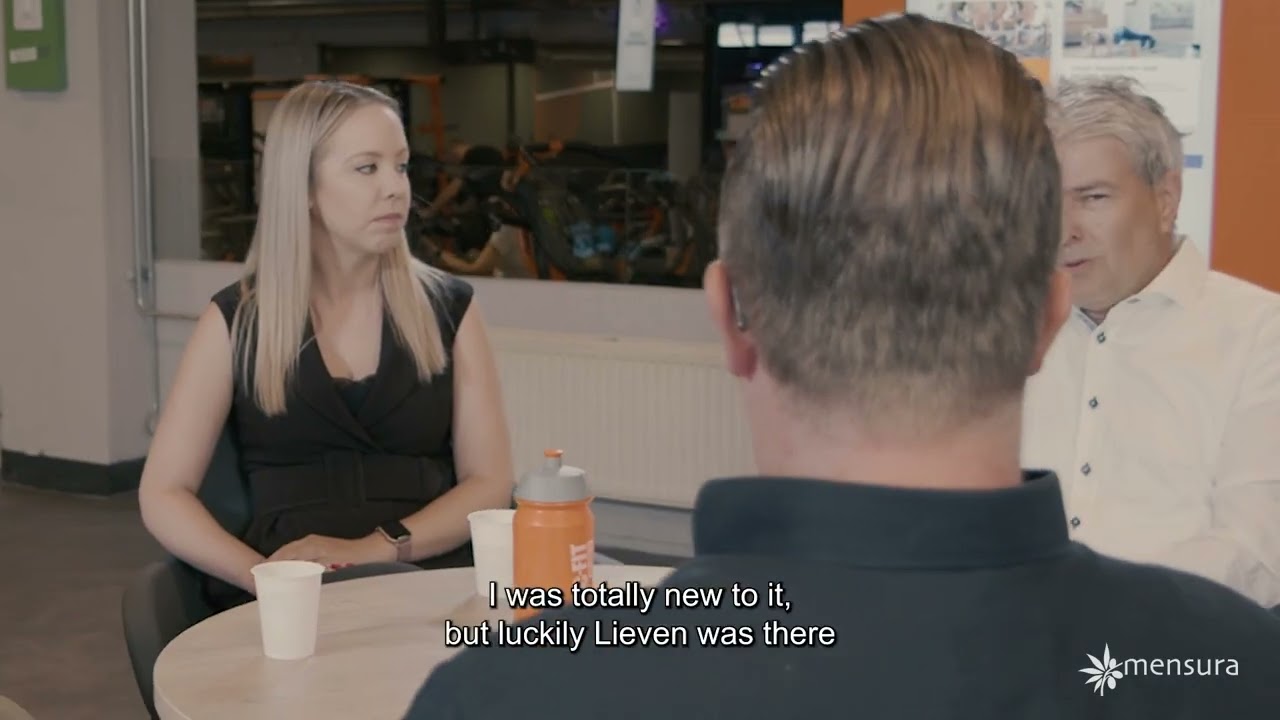 The project
Basic-Fit has grown strongly in Belgium and Luxembourg over the last decade; from just a few dozen to over two hundred clubs. The focus in Basic-Fit Belux has therefore been on maintaining this growth. Well-being has taken a backseat at times, but this has changed in recent years. Prevention advisor Vincent Debusschere has been working hard to provide a safe and healthy working environment, in close cooperation with Mensura. He has applied himself across many fields, but recently he has been making important moves in the field of ergonomics in particular.
Key players
Vincent Debusschere, prevention Advisor at Basic-Fit
Lieven Verhoeven, Occupational Safety Expert at Mensura
Jessica Van de Velde, HR Manager at Basic-Fit
Thomas Ghoos, Prevention Expert, ergonomics at Mensura
Vincent: "After nine years as regional manager at Basic-Fit, I became Health & Safety Officer three years ago, acting as our prevention advisor's right hand. When he left in 2020, Lieven came over to us from Mensura to provide support, because Basic-Fit needs a Level 1 prevention advisor. Lieven trained me to take over that position in due course."
"Lieven and I spent months visiting countless Basic-Fit clubs to see where we could improve safety. Not only did I learn a huge amount from the experience, we also forged a very strong bond of trust. Few companies enjoy such a unique partnership with their external prevention service according to me. It may sound twee, but I consider Lieven and his colleagues as family. Our relationship is unique."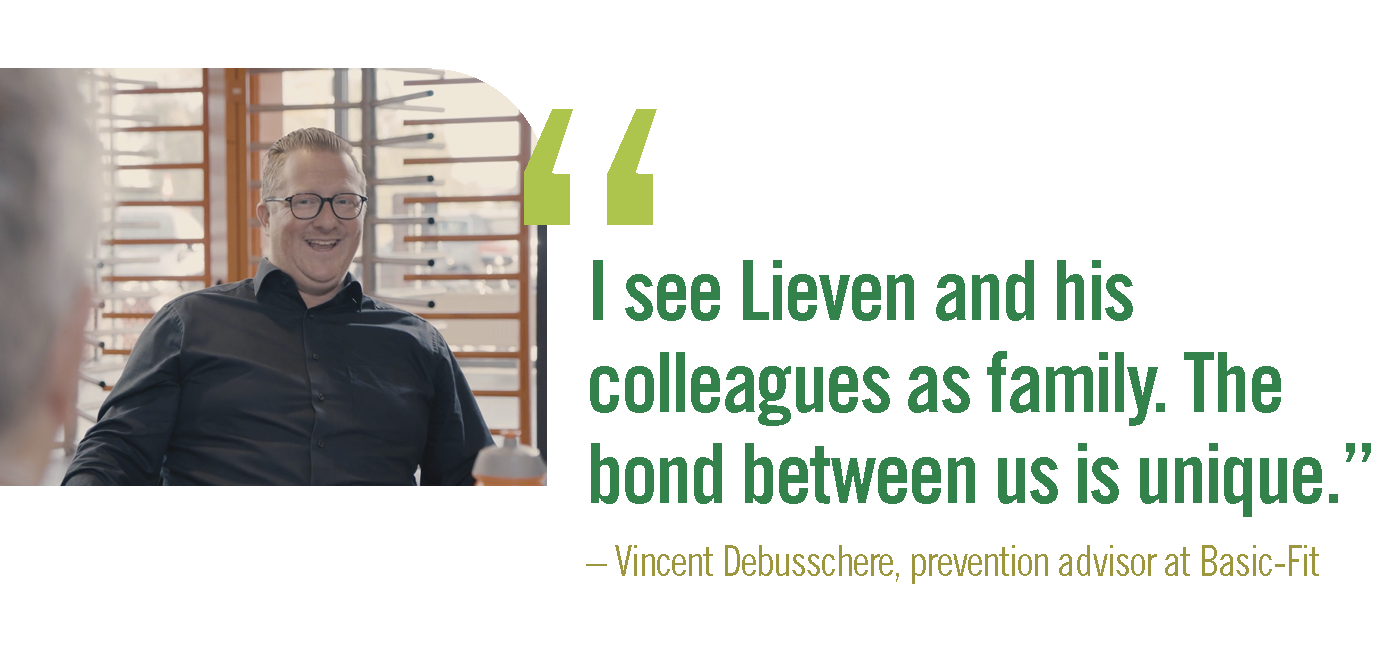 Lieven: "I consider sharing our expertise with clients and prevention advisers like Vincent to be our most important mission. Raising awareness and training often create a positive dynamic in companies. Basic-Fit, for instance, is going through enormous change in terms of safety and well-being. Witnessing that such intense cooperation actually produces results is extremely satisfying. Now that's making a real impact, according to me.
"Ergonomics, fire safety, environment, psychosocial well-being, etc. We work together in a huge number of fields. To ensure all the activities at Basic-Fit are properly coordinated, we organise interdisciplinary consultations with all the Mensura departments involved and with Vincent in attendance. This allows us to involve our customers as much as possible in everything we do."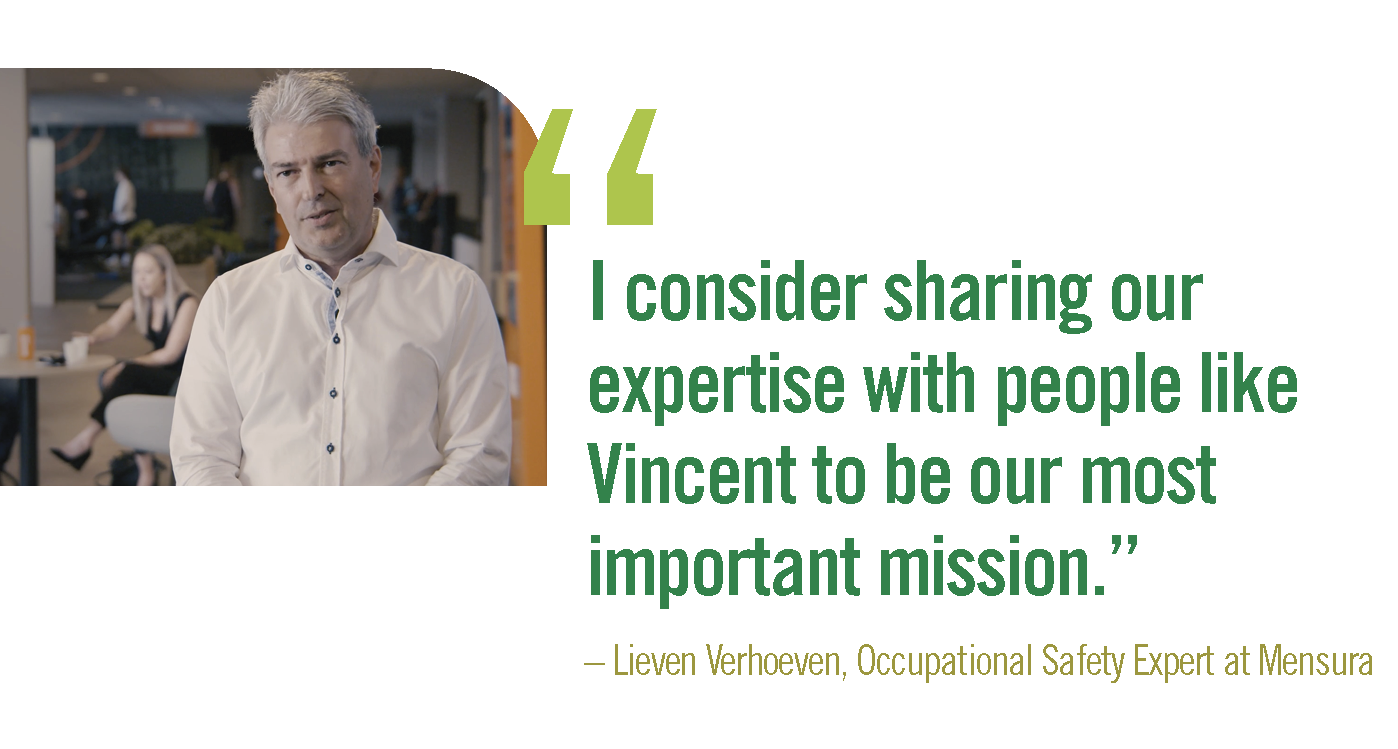 Jessica: "Our HR department also works closely with Mensura on reintegration projects and training in various fields, for example. Since the start of the Covid crisis, we have focused increasingly on ergonomics. Many ergonomic complaints arose from those working from home. Even I was working from my kitchen chair during the first two lockdowns, which was not exactly healthy. It became clear that ergonomics had to take centre stage in our work from home policy. A policy that did not exist pre-Covid. But we also changed a lot in the office and in our clubs."
"I can no longer count the different ergonomics campaigns on one hand, there are so many. We surveyed our employees, organised in-company training courses about screen-work, created flyers about healthy working from home, installed ergonomic desks ... Thomas is always on hand to support us in all things ergonomics."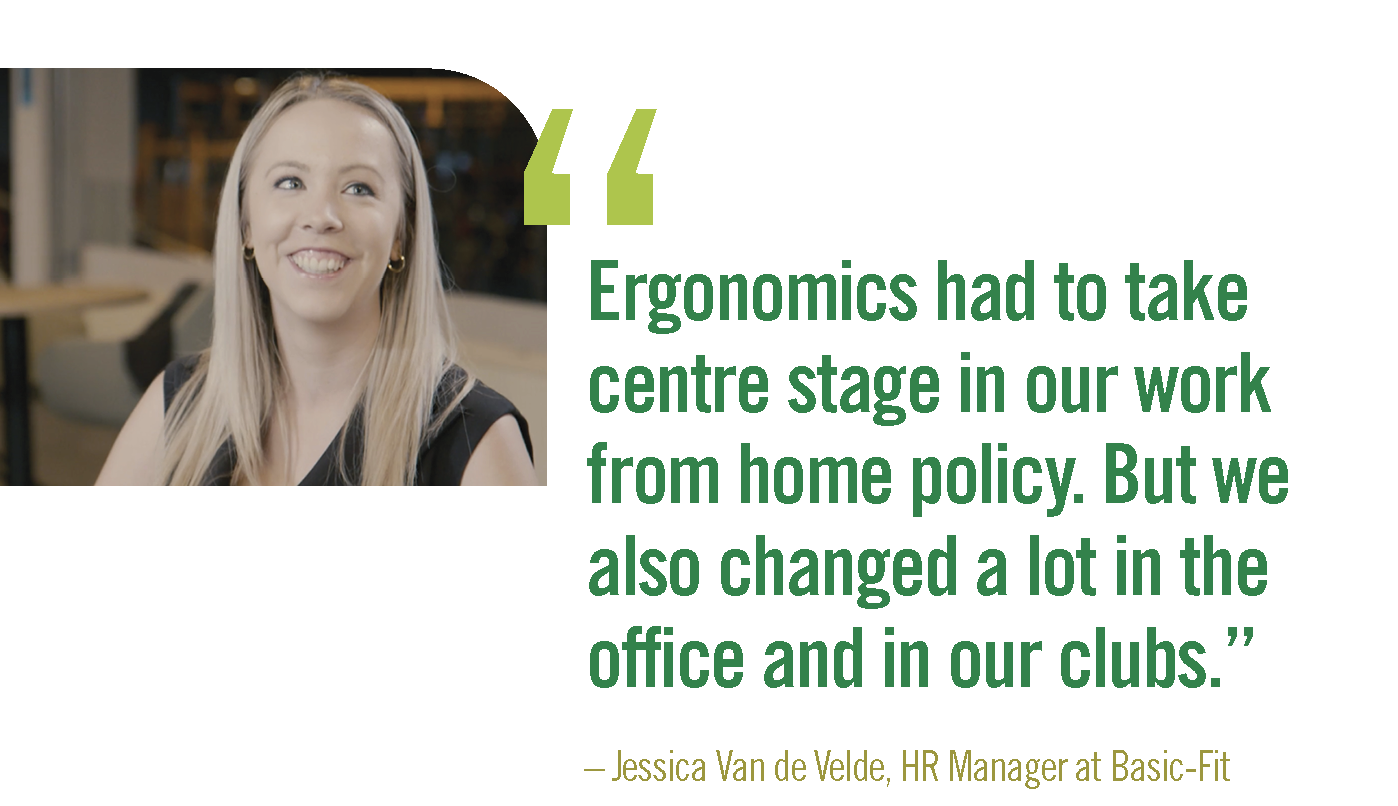 Thomas: "Vincent had to produce a final paper for his prevention consultant training, so we supported him in this. Using sensors, we investigated the ergonomic risks for employees in Basic-Fit clubs. These analyses using high-level technology showed us that the physical stress caused in these jobs cannot be underestimated."
"As a result of the study, we put in place immediate concrete measures. We produced a series of instructional videos to demonstrate the actions and activities that affect the safety and well-being of Basic-Fit employees. These videos look at lifting and cleaning appliances, for example. Employees are also increasingly starting to approach us with other ergonomic questions. Things have come alive for Basic-Fit, which is great to see."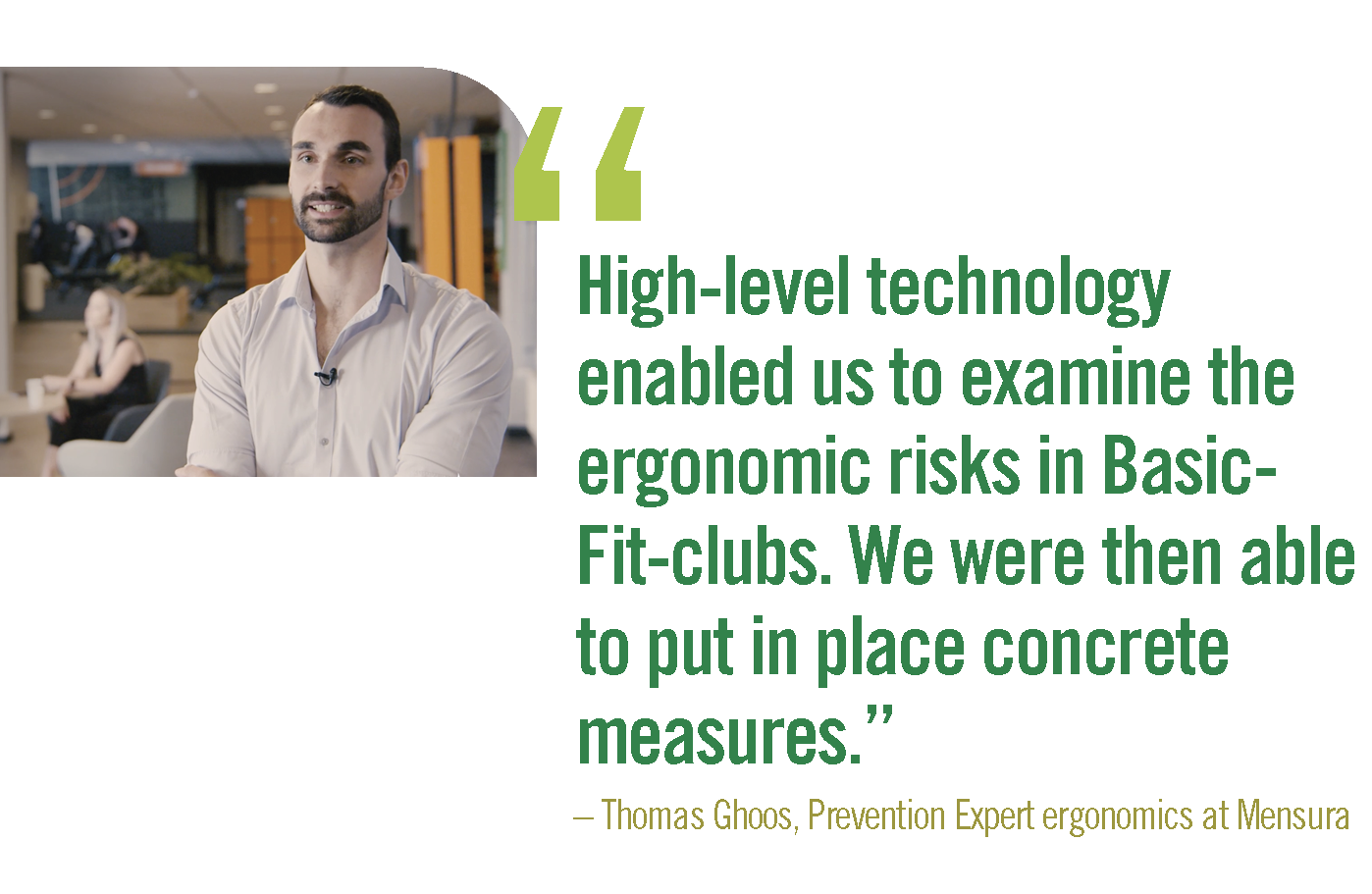 Would you want to focus more on ergonomics like Basic-Fit?
We're here to help! Contact us on +32 2 549 71 00 or email us: ergonomie@mensura.be.