Starting up as an employer: set up your prevention policy

Following a company visit by one of our experts, you will receive an advisory report and some useful documents to optimize the well-being of employees in your company. You should keep these documents together in a (physical or digital) folder, as this will facilitate the conduct of an inspection (by the Labour Inspectorate) or a new company visit.
Together with the recommendations contained in the company visit report, the following templates, tools and information can help you kick-start your safety policy:
Identification document
Under the law, you are required to provide our service with an identification document. You've already done it? You can find your completed document via Imago. Still on your to-do list? Download a blank form here.
Risk analysis
A risk analysis is performed at 5 levels: company, department, workstation, task and individual. Only when your risks have been inventoried and assessed can you lay down your preventive measures. Mensura can certainly help you with your risk analysis, but you can also apply the Déparis method (Dutch / French *) yourself.
Prevention Strategy (PS) and annual action plan (AAP)
Based on your risk analysis, you must draw up a prevention strategy (PS). This document is drawn up for a period of five years and contains an overview of all your prevention activities. Your annual action plan (AAP), the plan for the actual implementation of your prevention measures, applies to the coming working year and is based on your PS. Every five years, Mensura will also provide you with policy recommendations to serve as the basis for your PS. Feel free to use these templates to get started:
Sample PS and AAP template (Dutch / French *)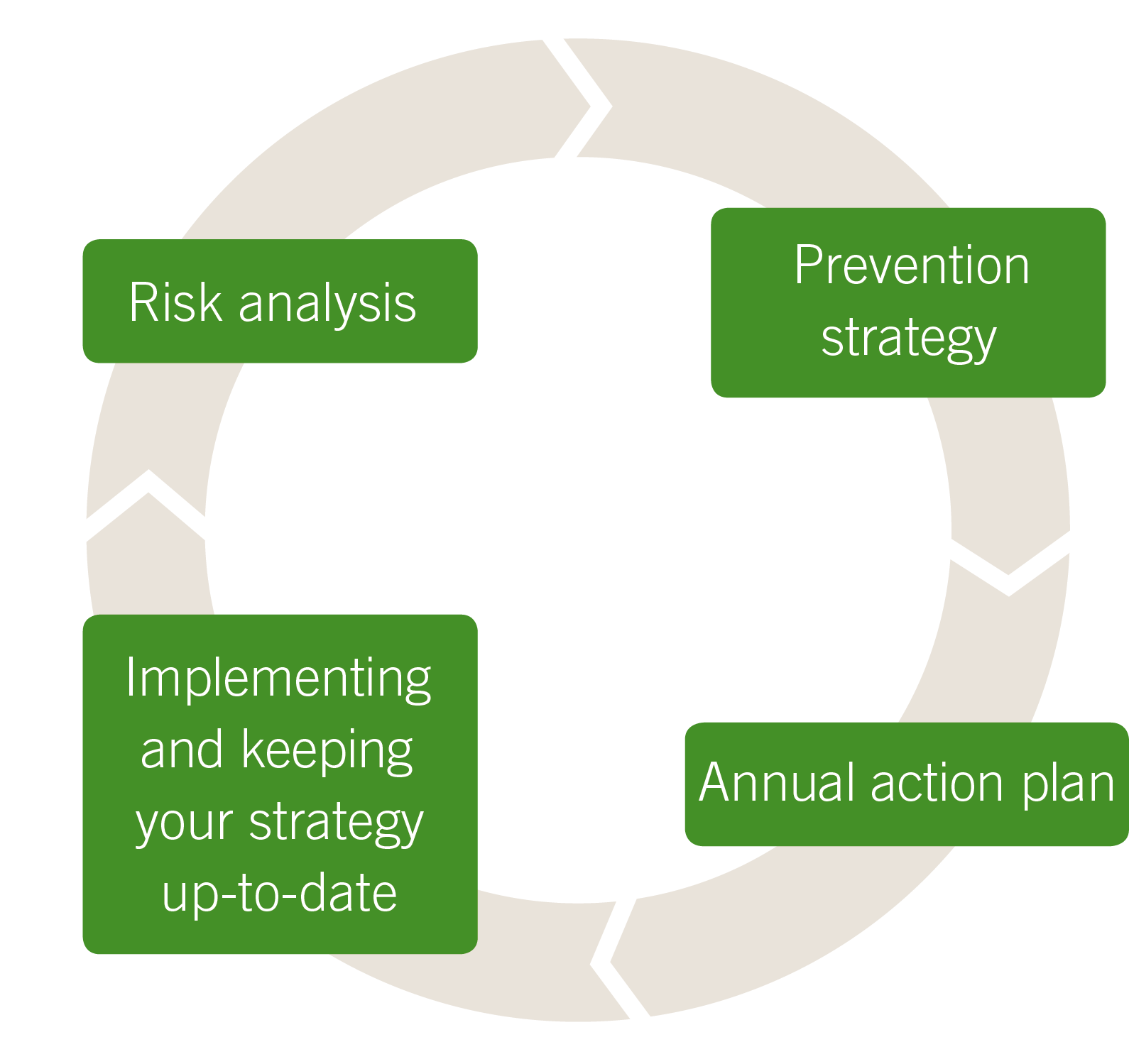 Annual report
Every company is obliged to draw up an annual report of its prevention and protection at work. Keep the annual report available for inspection from 1 April onwards. Read more here.
Prevention advisor training
As an enterprise with fewer than 20 employees, you as an employer may take on the role of internal prevention advisor. You can follow a basic Prevention Advisor training course at Mensura to get to work with the right knowledge. Register here.
Occupational accidents
Workplace accidents must be reported, always. Visit the website of the Belgian Federal Agency for Occupational Risks (Fedris) (Dutch / French *) to find out more about the reporting procedure.
Does your organisation employ fewer than 20 people? In that case, you don't need to have a certified first aid provider. However, your first aid and fire prevention officer must be able to tackle emergency situations correctly. Register here for the 'Combi emergency response (first aid) and fire safety' training.
Health surveillance
In order to keep employees healthy at work or help them resume work, various medical examinations have been enshrined into law. You can request the services of a Mensura company doctor for new recruitments, for work resumption after a long-term absence or for work-related conditions.
We start submitting your employees to a medical examination in the third year after you registered with us. You need only have a proposal for initial risk analysis (Dutch / French *) in the preceding period.
A periodic health check is required for employees with:
safety functions: anyone who uses resources or installations that could endanger the safety and health of other employees;
a function with heightened vigilance: anyone who is constantly monitoring an installation with possible risk for other employees or companies;
activities involving specific risks, e.g. ergonomic stress or exposure to chemical, biological and physical agents.
A health check is also necessary in cases of:
recruitment or change of workstation for safety functions;
resumption of work after an absence of four weeks;
a request submitted by the employee for health issues related to work;
a request from a permanently incapacitated employee seeking his/her reintegration.
Special measures also apply to certain categories of employees, such as maternity protection and night and shift work.
Do you have questions or require some advice? Our experts will be delighted to assist you.

*These documents/links are only available in Dutch and French.